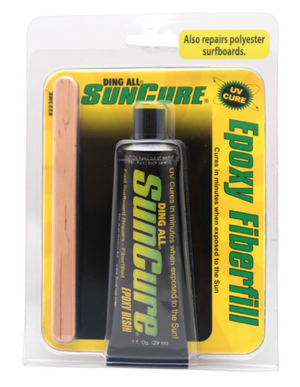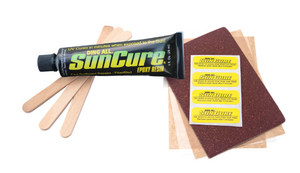 SUN CURE DING REPAIR KIT- MINI TUBE
Sun Cure 1 oz Fiberfill Mini Tube
Dings happen. Taking care of them early on will extend the life of your board. With this Sun Cure 1 oz Fiberfill Mini Tube the small dings are no problem. Sun Cure is the quick and easy way to repair dings for polyester resin based skimboards, surfboards, wakeboards and more.
The key is making sure you are using a polyester repair kit on a polyester board (and epoxy repair kits on an epoxy board).
Materials to have on hand – A sunny day (will kick/harden using UV rays so bright sun isn't critical but will effect how fast the repair cures up) wet/dry sandpaper, disposable gloves, and a wooden applicator. Keep in mind – this hardens in the sunlight, so apply in the shade to keep the fill pliable until you a ready for it to harden… then take it out in the sun to kick off.
Features:
Mini tube holds 1 oz of Fiberfill from Sun Cure
Great way to make self repairs on your board
Helps your board ride better and last longer
Easy to use